98% of customers recommend purchasing from us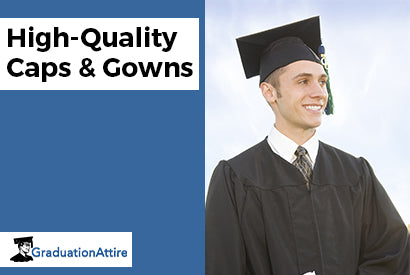 Why buy From Graduation Attire?
From stoles and gowns, to caps and tassels, to honor cords and hoods. Graduation Attire has all you need for graduation day, and prices and services that can't be beat.
Largest online selection of graduation attire
Lowest prices, guaranteed
Secure and safe ordering
Options for free shipping and overnight delivery
Reviews & Testimonials
See why 10,000+ customers are choosing Graduationattire.com!
All reviews
Regina B.

Ohio, US

"Gowns are high quality, affordable price and easy ordering!"

December 19, 2022

J B.

West Virginia, US

"Ordering was clear and easy. Satisfied so far."

December 1, 2022

Lorenzo C.

Mississippi, US

"First ordered months ago and product was delivered on time and it meet my expectation.
Therefore, I decided to make another order."

November 28, 2022

Rodney M.

West Virginia, US

"Great experience, fast, easy and great product!"

November 27, 2022

DTRiney

Iowa, US

"Great quality. Much better than expected considering the lower pricing. Fast shipping too. Highly recommended."

November 25, 2022

Jennifer H.

Virginia, US

"It was easy to find my school and place my order. Much cheaper than the options the school offered to rent, and I get to keep the regalia!"

October 20, 2022

Ike E.

Florida, US

"Easy. The program color (pharmacy) was brighter olive than I wanted."

August 12, 2022

Ronald T.

Virginia, US

"Robe features were easy to understand and design. I do wish, however, that the picture matched the selected robe colors better. Otherwise, this is a great site with affordable products. So happy I found you all!"

July 15, 2022

Barbara C.

California, US

"Thank you Ms. Violet and Ms. Lisa , your service was awesome and amazing"

July 15, 2022

Rufus S.

South Carolina, US

"Great Custome Services, very helpful will completing my orders, so that I am getting the complete package/ attire that we needed for graduation. The delivery date was on target! We will definitely use Graduation Attire next graduation year."

June 27, 2022
Regina B.

Ohio, US

"Gowns are high quality, affordable price and easy ordering!"

December 19, 2022

J B.

West Virginia, US

"Ordering was clear and easy. Satisfied so far."

December 1, 2022

Lorenzo C.

Mississippi, US

"First ordered months ago and product was delivered on time and it meet my expectation.
Therefore, I decided to make another order."

November 28, 2022

Rodney M.

West Virginia, US

"Great experience, fast, easy and great product!"

November 27, 2022

DTRiney

Iowa, US

"Great quality. Much better than expected considering the lower pricing. Fast shipping too. Highly recommended."

November 25, 2022

Jennifer H.

Virginia, US

"It was easy to find my school and place my order. Much cheaper than the options the school offered to rent, and I get to keep the regalia!"

October 20, 2022

Ike E.

Florida, US

"Easy. The program color (pharmacy) was brighter olive than I wanted."

August 12, 2022

Ronald T.

Virginia, US

"Robe features were easy to understand and design. I do wish, however, that the picture matched the selected robe colors better. Otherwise, this is a great site with affordable products. So happy I found you all!"

July 15, 2022

Barbara C.

California, US

"Thank you Ms. Violet and Ms. Lisa , your service was awesome and amazing"

July 15, 2022

Rufus S.

South Carolina, US

"Great Custome Services, very helpful will completing my orders, so that I am getting the complete package/ attire that we needed for graduation. The delivery date was on target! We will definitely use Graduation Attire next graduation year."

June 27, 2022