MSRP
Sale price
List price $5.95
As low as
As low as $3.57
Unit price
per
Sale
Sold out
| | | | | | |
| --- | --- | --- | --- | --- | --- |
| Quantity | 2+ | 20+ | 100+ | 300+ | 500+ |
| Discount | 5% | 10% | 20% | 30% | 40% |
Share
View full details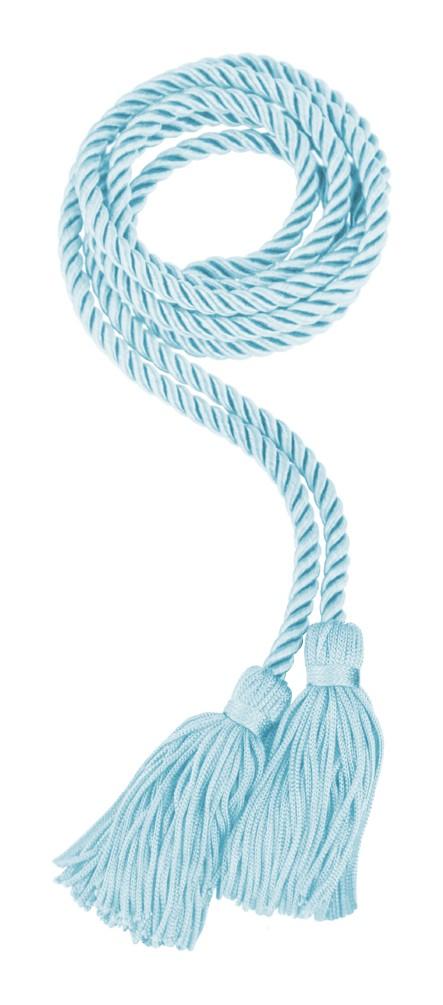 Constructed of sturdy twisted material
Thick light blue colored cord
68" in length from end to end
Large 4" bulb tassels at each end
Secure knotted ends
This Light Blue Graduation Honor Cord is the ideal item for honor recognition for your college graduation



Light Blue Graduation Cords


Light Blue Graduation Cords are one of our more well-known items. The shade of blue is alluring and is like a sky blue or infant blue. You may consider utilizing light blue honor cords for understudies who have acquired their Eagle scout honors, mainly if royal blue or red, white, and blue cords are being used by one more gathering at your beginning service. Light blue honor cords would likewise be a decent decision if blue is one of your school tones and you have understudies who have acquired their International Baccalaureate. You make sure to be mainstream with this top-notch Graduation Honor Cord.

Light Blue is highlighted in the Honor Cords of more than one honor society. Moonlight blue is a light blue. The correspondence honor society's tones are light blue and gold. Also, the country's most established honor society has graduation cords of light blue and pink.

Notwithstanding honor social orders, a few sororities utilize light blue too. A sorority that began in 1943 at the Lewis Business College has the shades of child pink and infant blue, a light blue, and others, which guarantee "sky blue" as one of their cord tones, could likewise be addressed by a light blue honor cord. Light blue could be a suitable replacement for greenish-blue cables too. Yet, it's not just social orders and sororities that utilization light blue; schools do too. For instance, Grand Valley State University in Michigan has shades of light blue, white, and black. These are colors that we don't convey together. However, they would make an incredible triple cord. The University of Great Falls in Montana has sky blue and reap Gold as shades of theirs.

There are four primary sorts of light blue. Periwinkle, Powder Blue, Light Blue, and Baby Blue. Our light blue honor cord can be utilized for any of the last three. However, it is not even close to the shade of periwinkle. It is nearest (obviously) to light blue, child blue, and afterward powder blue.
Order Processing Timeframe
All orders for "In-Stock Products" will ship out within 1-4 Business Days. We offer Quick Processing (options which expedite your order handling and overall delivery time), however you must submit your request on our contact us page. Additional fees may apply.
If your Order contains a "Custom Product", the entirety of your order processing time will be approximately 2 – 3 weeks. Expedited processing options are not available for "Custom Products". Prior to checking out, please review your order and be aware that by placing this order you understand and accept the extended 2 – 3 weeks processing time.
Order Processing Options
IN-STOCK – Ships within 1 - 4 Business Days (No Additional Charge)CUSTOM – Ships within 2 - 3 Weeks (No Additional Charge)
Shipping time (which is not the same as the processing time)
It takes about a week for standard shipping (5-8 business days). You can reduce this time by paying for faster shipping such as 3-4 business days.
Just remember the shipping time is in addition to the processing time. You need to add together both the production time and the shipping time to get a time estimate for your order.
The shipping time and processing time are estimated and Graduationattire.com does not guarantee the delivery by a specific date or time.
Out of Stock 
If any item(s) become out of stock after an order is placed, one of our customer service representatives will contact you via telephone or email and inform of available options in an effort to remedy any issues. We will ask whether you would like to proceed with your order or make changes to your order. Product substitutions are available upon request. Out of stock items will typically be placed on Back Order and extended processing times may apply.
Delivery times may vary
The Estimated Delivery Date provided at checkout is an estimate only and does not guarantee delivery by a specific date or time. As this is an estimate only Graduationattire.com cannot refund shipping charges for shipments arriving past the estimated delivery date. We will do our best to make sure you receive your order on time. We advise you to give us a call if you need your order before a specific date and we will try to meet the date.
International Shipping
We will ship to some foreign locations. Such locations generally include Canada, Europe, South America, Japan and a few other locations. You can check if your country is available by simulating placing an order on our website. We can also place the order over the phone if you do not find your country. However because such shipments often involve the peculiarities of the various tariffs trade and import/export laws around the globe we may not be able to ship some orders overseas due to the cost of researching the laws for that location. Also if possible it is always easier for us to ship to a US-based shipping address and you will always save on shipping costs if you can arrange for a US-based address to receive the shipment. At this time due to advice from our bank concerning trends in fraud we reserve all rights to deny or proceed with orders shipping internationally. 
* Graduationattire IS NOT RESPONSIBLE FOR ANY DUTY VAT TAX OR ANY OTHER FEES ASSOCIATED WITH IMPORTING OUR PRODUCTS. We cannot look up the final cost to you as your home country may (and often does) charge a fee at the destination. We also cannot accept a rejection of that fee after the shipment leaves our factory and we cannot offer a return for a refund. Your home country will demand that Graduationattire pay the fee before receiving the returned item and Graduationattire cannot pay that fee. If you order from overseas you must either pay any import fees and duties your home country charges or else abandon the item or receive no refund.
Shipping Rates
To obtain a shipping rates please add your products to checkout to see shipping rates to your destination.
Track your order
Once your order shipped, you will receive an email with the tracking number. Please allow us 1-2 days to update the tracking number.
Please note CUSTOM PRODUCTS (Custom Doctor Gowns, Custom Stoles, Hoods, etc...) are NON REFUNDABLE. 
RETURN AND EXCHANGE POLICY 
If a return is accepted, due to COVID-19, it can only be used as store credit at this time or be used towards an exchange for another size or product. Any products that have been worn or used many not qualify for store credit. Due to COVID-19 it is not safe for customers and we are not able to resell any returned items. Any returns that fall within our usual return policy will be used as future store credit.
All returns must be authorized by email hello@graduationattire.com, please provide your order number and email address.
Our return / exchange form will be emailed to you and must be completed with the return.
All products and packaging must be in new original condition with unopened packages and original packing materials and may not be returned used, worn or altered in any way. No exceptions for return if the packages are opened or/and worn.
All shipping, handling and processing charges for your original order are non-refundable. It is the responsibility of the customer to pay any return/exchange shipping. Once we receive your exchange, we will give you a call to process the payment of the exchange shipping cost.
On all returned merchandise a 13% restocking fee will be applied.All returned product(s) must be returned/ received within 7 business days of return approval date. A delay will result in complete forfeiture of your return. 
Requests for returns must be made within 14 days from the date of receipt of your order.
Registered return shipping of products which are returned is the responsibility of the customer.Your return will be processed within 7-10 days. 
All custom items/apparel cannot be returned and are non-refundable, this is because these items are made from custom fabrics or have custom printing with your personal information, therefore cancellations are not accepted after your order has been submitted.
Requests to return/exchange products due to quality issue must be made within 14 days of delivery or we will not able to accept any return (received wrong item, color, size and other company error...), please send any evidence to hello@graduationattire.com, we will resolve the problem as soon as possible.
Products that are not eligible for returns are clearly marked as "On Sale" on the Product page for that Product. All products on sale are non-refundable, however can be exchanged for the same credit amount.
CANCELLATION POLICY
You can cancel any in-stock product orders if it has not been shipped/left our facility. 
Custom orders can only be cancelled the next business day you have placed your order.
If you would like to cancel an order already shipped out, please process your request through this link (no custom orders accepted). You can send the order back after you received it.
Please check our return policy for all details. Original shipping and processing fee are non refundable.
If you order has not been returned, we won't be able to process your refund.
Frequently asked questions
What is the material of your gowns?

Our gowns are all made of 100% polyester. Purely made polyester, like our products, is extremely strong, extremely durable and has excellent properties such as being hydrophobic in nature that leads to quick-drying and stain resistance.
What is the difference between matte and shiny?

The main difference is the finish of the fabric. Our shiny gowns are a knitted fabric that has more of a shiny look to it giving the color of the gowns more brightness. Our matte gowns are a woven fabric which has more of a flat dull finish. 
How do I know what gown's color to choose?

Please contact your educational institution, as we currently do not have access to school colors.
What if my school orders with a different company?

We welcome anyone to order with us! Although, we cannot give assurance or be held responsible for our gowns' colours matching another company's gowns. We provide unique shades of gowns are not the same with another vendor's products.
How to select my Graduation gown size?

You need to provide us with each customer's height with shoes on for the gown and weight. You do not need to provide cap size as our standard caps are one size fits all with elastic. Please see the our size chart. 
Do you offer plus sizes?

We do have regular and full-fit sizes. We have plus sizes in 45, 48, 51, 54, 57, and 63. Please refer to the measuring instructions link for more information on our sizing.
How do I select my hood's colors?

There is no standardized and unified published listing available of all current school colors.

While GraduationAttire does maintain a color chart for degree velvet colors there is no true substitute for contacting your school directly and asking them what colors they are currently using for your graduation apparel. Schools can and sometimes do change their colors on a yearly basis (and even the color of the gown itself).

The lining and chevron (satin fabric) represent your school colors. The shell is the material of hood which is always black (polyester fabric, matte finish). The velvet color represents your specific degree or field of study.

You always need to choose the colors based on your highest level of education or current school you are attending.
How do I wear my hood? 

Place it over your head draping off your shoulders and across the back of your gown. The velvet edge should be on the outside visible from the back. Make sure the lining (field and chevron school colors) are turned out so that people can see from the back your university colors. Usually this is done by turning the velvet trim to the outside at the back just below your shoulders. If you ordered a professional / faculty hood there will be a cord in the back (with two buttons one on each side of the hood) to keep your hood in place and a cord in the front to keep the hood away from your neck. Fasten the front cord to a shirt or dress button. Finally make sure the fabric shell of the hood is smoothed down and lays flat against the back of your robe.